Running the software
We recommend to connect all HDDs to dedicated Windows PC in a single disk mode, unless you are 100% sure RAID has no issues.
We don't recommend using SSH for VMFS disks, as SSH protocol works about 30 times slower than direct connection for single disk. USB adapters or HDD-racks are also out of our recommendation as they known to interfere and prevent successful recovery. A lot of them have low build quality that affect recovery much more often than anyone would expect.
If you don't have enough ports to connect all disks from array simultaneously, consider using "Create Image" and "Mount Image" commands to place several disk images from RAID on single HDD with larger capacity.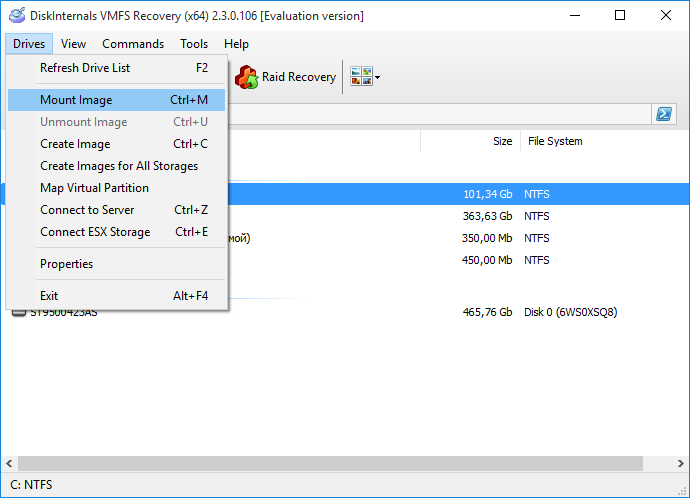 After everything is set up, start the software and wait until all disks and arrays(if present) are detected. You should see a disk list and Raid Wizard will start automatically. I suggest you to close it for now and check the disk list first. It is also recommended to switch to Details view to see more information about present disks.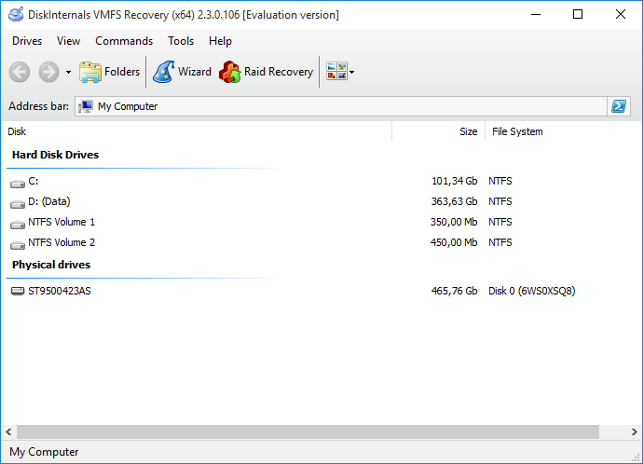 During launch we try to detect all known arrays that have structure information and if they have no issues they should be recognized and rebuilt automatically. If RAID disk doesn't have structure information on it's disks (some controllers store it withing it's RAM) or array is corrupt, at this case RAID should be reconstructed with RAID Wizard.
Normally such RAID failures like broken controller, crashed NAS' power adapter, server shutdown because overheating or simple movement of array to another computer have a good chance to be detected and reconstructed automatically during launch. So check if disk list have required partitions. They should be available at the "Hard Disk Drives" section.
Same deal for any single disk volumes. You can just open required partition at the "Hard Disk Drives" section and browse for required data.
Please refer to RAID Disks section below to learn more about how to use RAID wizard to reconstruct array.