VMFS Recovery™: How to preview recovered vmdk files before purchase
It is a common and expected question our customers ask. Here is a detailed guide on how to check the integrity of the recovered VMDK file before purchase.
First of all, please be advised, the demo version of VMFS Recovery™ has all "save" features locked, otherwise, it has the same capabilities on VMFS recovery and RAID reconstruction the full version has. Moreover, you can activate your license any time, no download or rescan is required.
Scanning
If you recover data from the RAID disk, you have two options -- leave it as it is if you are absolutely sure there are no problems with RAID or use the built-in Raid Wizard to reconstruct RAID properly. Please note, it is necessary to connect disks in a nonRAID mode to your Windows machine or use separate disk images, where each image represents a separate disk from the array. It is impossible to reconstruct an unbroken array as the controller blocks access to the RAID structure data. 
Some tips about scan:
To speed up the scan it is recommended to connect ESX disks directly to Windows machine instead of using SSH connection.


Use "Uneraser" mode unless your file system is corrupt or was formatted, otherwise you have to run "Full Recovery->VMFS" mode.



If you have a time critical case and you don't want to interrupt "Full Recovery" scan, you can run second copy of VMFS Recovery™ and perform a parallel scan in "Uneraser" mode.
Browsing recovered data
First of all you need to browse a folder where once was your *.vmdk file. Next place to search "Unknown files" virtual folder where we place all files and folder that has no root anymore.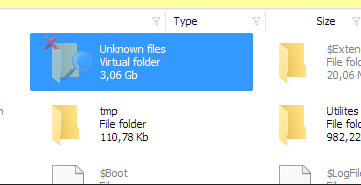 The last place to check "Fragments of PBC" and "Recovered by Signatures" (formerly known as "Recovered Files") virtual folders that contain results of our Power Search algorithm, lack of this alternate method – it's unable to recover fragmented data and therefore useful only in specific cases. Please search "Fragments of PBC" for files of the same size as required. The file name could be beyond recovery, but data will be still intact.

Mounting recovered VMDK
If VMFS Recovery™ will be able to find the deleted VMDK file, you need to mount it by right click and select "Expert->Mount as disk". This will allow you to check the integrity of files inside VMDK using a built-in preview and ensuring data was recovered successfully.
Vmdk file will be added to disk list as a simple disk image, please open it in a Reader mode or scan it Uneraser\Recovery with corresponding to guest OS file system, i.e. Windows->NTFS, Linux->EXT. This will allow you to gain access to files inside and preview recovered data using built-in preview
Please write to support if you have any questions or need additional consultation, each case is different and it is impossible to describe all cases in an article.